PENfriend has a portfolio of three free software. The Utility Software gives you peace of mind with ease of use. The Label Manager is for the specialist who wishes for more control over their vast number of recordings. The Label Conversion Software is really for the engineer and needs more computing skills. All are free but all software will only run on Windows based computers. With some interfaces, you may find a warning asking if you are sure that you wanted to download a program from an unknown publisher. This is a new security system that Microsoft has put into place. Please don't be put off. Once a certain number of downloads have happened, Microsoft will automatically remove this warning.
We recommend that you listen to the Video for instructions.
NEW
PENfriend Utility Software
The free PENfriend Utility software builds on our unique portfolio of software to give you more control.
It is a one tap solution to backup your precious recordings, restore them any time. Again, with just one tap, you can replace your Daisy audio book or any audible MP3 book. Make a playlist with your favorite sequence of songs, and the Utility Software will upgrade your music with just one tap. We recommend listening to the video about how to use this highly valuable software.
PENfriend Label Manager
The Free Label Manager builds on the Utility software by giving you more control. You can manage the recordings on each label and assign music to specific labels. To install into your Windows based computer, click on the "Download" button below. Once installed and started, select the "Graphic Interface 2". You can see how to micro-control the We recommend that you watch the Video on how this is done.
The aid of a sighted person if you use Graphic Interface 2 since it is not 'Jaws' supported.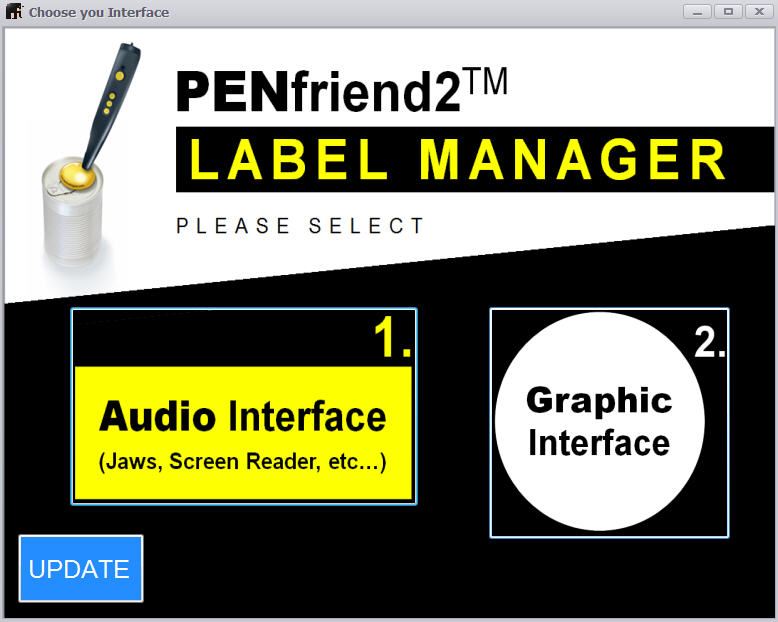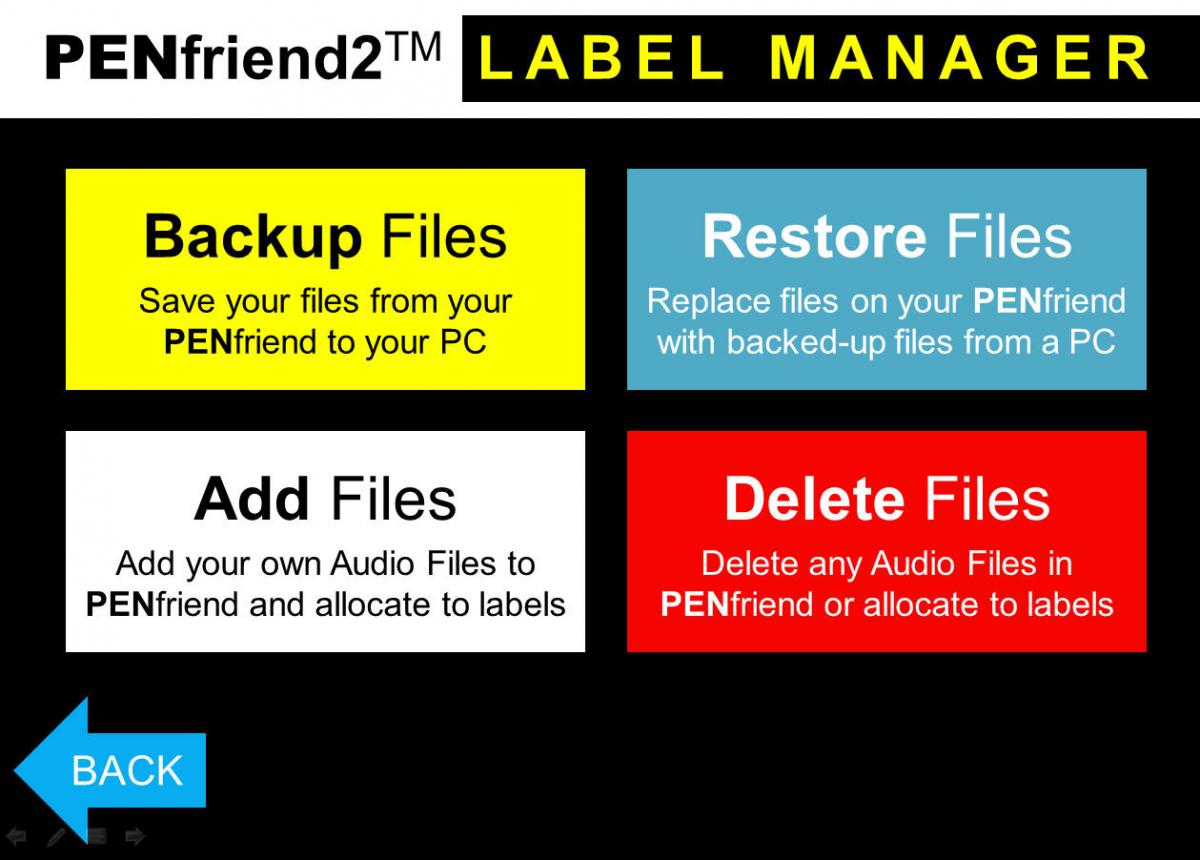 If you click "Audio Interface 1" you are taken to a simple screen which will automatically backup your audio recordings with their label allocation. To restore, just connect your PENfriend to the computer with a USB cable and press the restore button. All your recordings will be updated on the pen.
PENfriend Transfer Wizard
Are you replacing your PENFriend?
If so, here is an easy way to transfer all your recordings from the old pen to your new PENFriend. This means you can still listen to all your recordings from the same labels with the new PENfriend. Here is a quick and easy way: Click on the "Download" button below and the "PENfriend Tool Transfer Wizard" programme will be downloaded to the Desktop of your Windows based computer. Double-click on the "PENfriend Tool Transfer Wizard" and save the programme to your hard disk. Double-click on the setup.exe file to install the Wizard to the hard disk of your Windows based computer. Run the programme by double-clicking the "PENfriend Transfer Wizard" icon on your desktop. Then connect your old PENfriend with the USB cable and follow the instructions. Please see the video below. Once the transfer is finished (typically in about 5 minutes) you can still use your old PENfriend as well as your new PENfriend.